Increase sales by using marketing tactics specifically designed for fixed operations.

Fixed operations can be the most profitable area of a business, but too often it is simply treated as an afterthought. Search Optics has created solutions that boost your brand's greatest source of recurring revenue.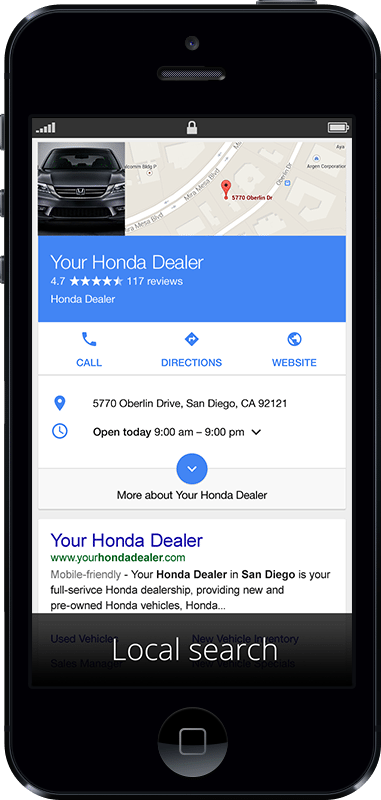 We've reinvented the phone book for the digital world and the mobile Internet.
Local search
With 85% of your customers using local search before they even begin shopping, it is critical to monitor the growing number of online directories for outdated and false information. Using a mix of technology and manual processes, our team of professionals continually claim, audit, and update over fifty listings with updated and relevant content. Search Optics ensures your business will get noticed, reviewed, and located, thus generating your fixed ops business twenty percent more leads and phone calls on average.
Features include:
50+ directories covered – We cover well over half of the local search world with listings including Google+, Yelp, and Yahoo.
Duplicate removal – Our experts find and remove duplicate listings to ensure customers find you quickly and accurately.
Monthly offers – Search Optics posts small text-based offers to your directories and actively pushes phone calls to your locations.
Reputation management – We monitor and notify you of reputation management issues at no additional cost.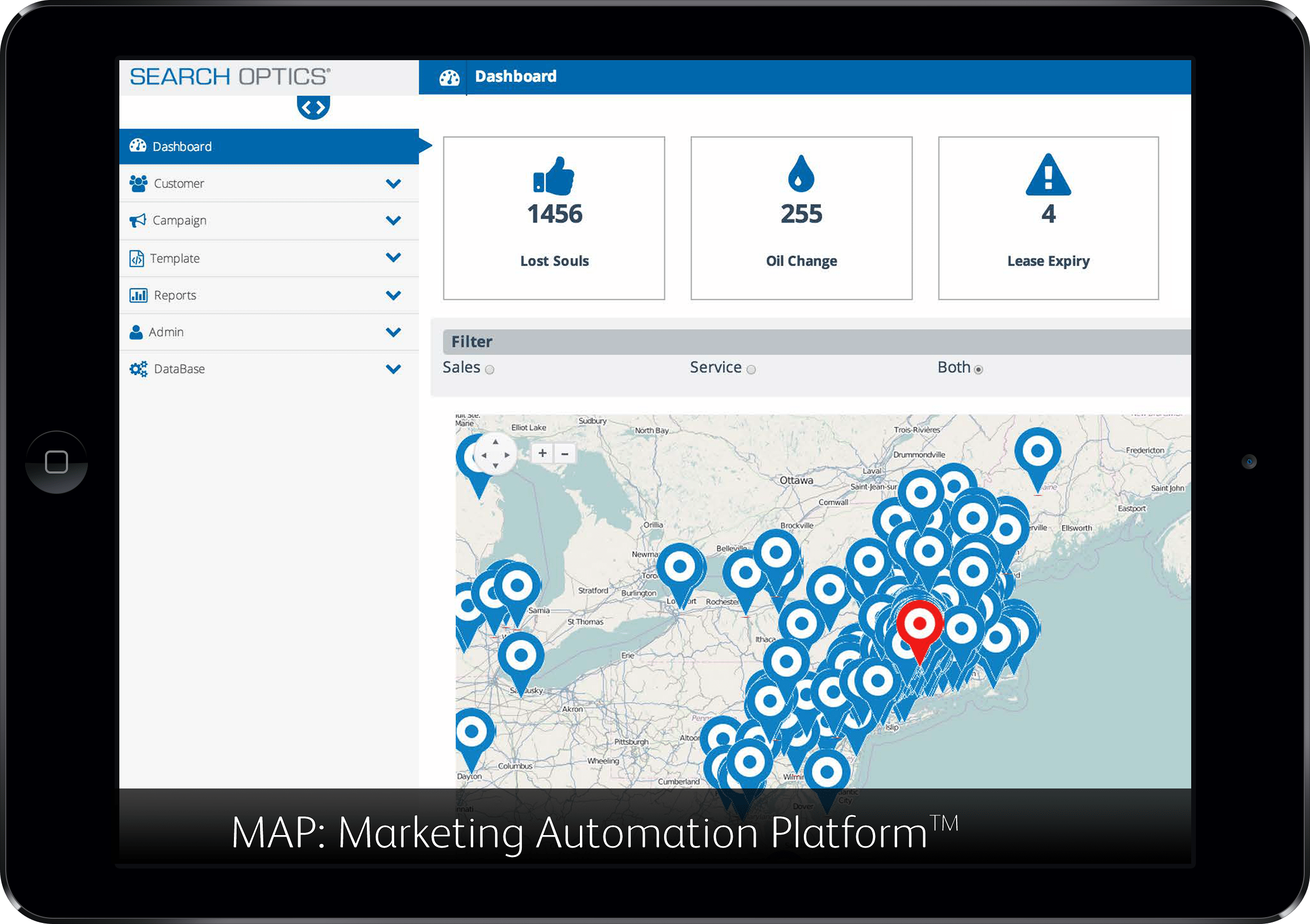 Deliver personalized, actionable customer experiences – automatically.
MAP
Harness the power of marketing automation without doing the heavy lifting. MAP uses the data and history you've gathered over time with each of your customers, so you can easily identify the optimal message that speaks to their point in the purchase lifecycle. Send highly customized e-mail and direct mail campaigns to match your monthly goals, as well as plan for future promotions and initiatives. MAP blends the capabilities of marketing automation with a human factor to determine the best upsell strategies and referral opportunities to encourage customer loyalty from the first purchase through auto services and future sales.
What makes MAP the best choice for you?
Attract new customers – Our partnership with industry-leading data sources not only makes it easier to optimize campaigns to specific areas of your market, but also to identify highly motivated individuals for conquest campaigns.
Flexible, automated campaigns – Experiences at all areas of your operations (sales, service, parts) can be used whenever you need.
Automated campaigns – Generate campaigns for fixed ops as well as sales and brand awareness.
Personalized URLs (PURLs) – Serve up customized offers and dealer-specific content that encourage shopping actions and increase your ROI.
Campaign integration – By combining the same campaign strategies and customers into programmatic media, search, and social efforts, you'll have a clear picture of the full reach of your digital marketing, without losing the ability to see activity from specific channels.
Marketing automation – Let your MAP strategy team do the work by creating the experiences you want, when you want. We'll craft your message, ensure the right customers are included, and activate at your preferred time, thus allowing you to focus on running your business.

Your operations may be fixed, but your revenue doesn't have to stop growing. We can show you the way.
*
indicates a required field.