Search Optics Looks to Make Websites Pop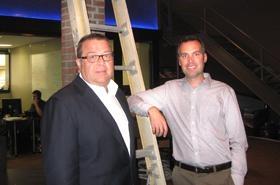 Courtesy of The Oakland Press — Automotive advertising is in transition and Ferndale firm is ready to capitalize on the shift that gives dealers a chance to communicate with customers via the Internet.
Founded in 1998, Search Optics Inc. is something of a pioneer in the mushrooming field of online advertising. "We do everything an advertising agency does for a dealer but we do it only," noted David Ponn, Search Optics chief executive officer, who splits his time between the company's birthplace in California and operations center in Ferndale.
Search Optics objective is to make the websites of their clients livelier, easier to navigate and more informative for the anyone shopping for a car.
Christian Fuller, Search Optics executive vice president, said when Search Optics was founded in San Diego more than a decade ago, several new companies had been established to capture leads and then to re-sell potential leads. Sometimes the competition for specific leads could get so fierce it would lead to mini-auctions among dealers in specific areas.
"We're a marketing firm," he said. "We develop an internet platform for the dealer," he said.
More than 1,000 dealers across the U.S. and Canada have already signed up for Search Optics and the number continues to grow, said Ponn, adding the firm specializes in helping clients create sales opportunities.
The service provided by Search Optics goes beyond generating Search Optics provides a turn-key digital marketing solution that includes custom websites, search engine optimization, managed paid search, social media and reputation management, email marketing, mobile websites, and reporting and analytics. The company's goal is to drive qualified visitors to your website and ultimately to your showroom and inventory tracking, according to Search Optics web site.
Fuller added a key element of Search Optics service is that it continually refines its in-house technology and software to furnish customers with a proprietary reporting and analytics system, which tracks and records phone calls and emails from search engine marketing Pay-Per-Click campaigns. The reports provide dealers with a straightforward look at how all programs are performing.
Ponn said that in addition to working with individual dealers, Search Optics also works with various manufacturers and regional marketing groups.
However, one of Search Optics' latent strengths is that they offer customers a turnkey operation. "They don't have to deal with a lot of different vendors. We can do it all," he said. "It's just like if you hired an ad agency to produce your television commercials."
In addition, fashions and fads on the Internet change quickly and Search Optics offers dealers a chance to keep up with the latest trends. "Two years ago, everybody had to have video," he said.
Now apps for mobile phones are becoming increasingly important, he said. Indeed J.D.Power & Associates estimated recently one in five consumers are now using smart phones to look up information on new vehicles.
The firm's entire philosophy is client-centric, added Ponn, who managed car dealerships around Southern California before becoming one of the original partners in Search Optics.
"We believe that your success is our success. Our experienced team is always available to support you with all your online marketing needs," he said.
While the company operates nationwide, he made the decision two years ago to put the company's operating hub in the Detroit area.
"This is the center of the automotive universe," he noted. The move to Ferndale has been a huge plus for the company, he added.
For example, the company is currently renovating its building in Ferndale, which is located right up against the railroad track north of Nine Mile Road.
The City of Ferndale has been an enormous help expediting the project, he said.
Search Optics currently has roughly 100 employees and is looking to hire 50 more and he's been very impressed with the work ethic of the people hired from the Detroit area. "There are also great universities and there is deep pool of talented people," he said.
In addition, new hires come into the company with an appreciation for the automobile business. "Their father might have worked for Chrysler or their brother might work for Ford, it's like it's in their blood," he said.
The post Search Optics Looks to Make Websites Pop appeared first on Search Optics Blog.
---