Mobile Usage Report Shows Importance Of Mobile Marketing Strategy
This month, JiWire published their quarterly "Mobile Insights" report, highlighting trends in mobile usage and activity for 4Q 2010. There were two key statistics that should be interesting to anyone who is considering starting or expanding their mobile-based ad campaigns. More importantly, this should be noted by marketers who do not believe mobile and tablet devices matter now.
Hint: they do matter, and in a big way.
On the go browsing – laptops falling, tablets/devices/eReaders rising
The first trend shows how on-the-go browsing is moving more and more to tablets, eReaders and gaming devices. In six months, laptop usage while outside of the home and office network dropped from 89% to 63%, while tablet, MP3/Gaming and eReader devices all saw significant gains. This is a dramatic change in six months, and it shows very clearly that laptops will continue to give up ground to tablets and other handheld mobile devices for on-the-go consumer browsing.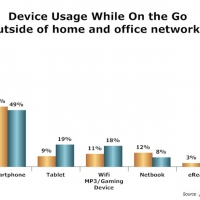 Mobile Shopping Behavior – browsing and purchasing, online and in-store
The second interesting trend shows what kind of shopping behaviors are being done while on a mobile device. While nearly thirty percent of mobile users researched a product on a mobile phone, a quarter of mobile shoppers researched and purchased within a store or online.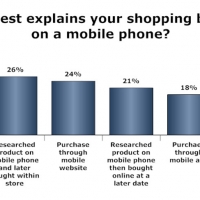 Both of these trends highlight the importance of having a solid mobile marketing campaign, and ensuring that your mobile experience offers the information consumers need and ways to engage and purchase. With a smaller footprint, tablets and eReaders do not deliver the same online experience that a full PC and large monitor offers. As more and more people leave their laptops at home in favor of their smartphones, tablets and other devices, your strategic focus should be on giving these consumers a premium, informational experience that helps lead them down the path to purchasing your product or service and does so in a visually appealing way.
Search Optics has a comprehensive set of services for building mobile and tablet-friendly sites and engaging, high-return mobile ad campaigns. Please contact us to discuss your mobile strategy and see how we can help you succeed in capturing this rapidly growing consumer audience.
The post Mobile Usage Report Shows Importance Of Mobile Marketing Strategy appeared first on Search Optics Blog.
---