Increasing organic, on-site, shopping traffic by optimizing keywords and engaging users
One of our clients in Northern California was looking to grow their BMW enthusiast family. Business was going well, but they wanted to increase organic, on-site shopping. Search Optics used their class-leading technology and human component to achieve these results. Blueprint™, our truly responsive website platform, allowed us to build interactive, engaging content that gave users a clear call to action (CTA) directing them to the client's inventory page and encouraged them to browse the site. Blueprint, along with a team of experts continually optimizing keywords, made for a site that was consistently relevant. The data does not lie; our client had a significant leap in organic reach with our help in choosing the right keywords, as well as through the creation of a site that was interactive and engaging.
Objectives
• Increase organic, on-site, shopping traffic.
• Optimize keywords.
Solutions
• Blueprint, our truly responsive website platform, allowed us to build SEO-friendly content, with interactive elements. The keyword tracking and reporting tool viewed SERPs (Search Engine Results Pages) and compared our keyword visibility against competitors, giving us snapshots of our performance for any number of terms.
• The Google Analytics and Webmasters Tools tracked all traffic to the site allowing us to correlate our efforts with increases in traffic through organic media.
• Our content strategist targeted high-value neighboring cities with greater search volume and shopper potential by:
1. Building landing pages, with methodically placed CTAs and relevant content, which directed shoppers toward inventory.
2. Frequently altering keywords on critical pages.
3. Creating off-site content and building links that reinforced search terms, which further strengthened the relevance of the terms on-site.
Results
• We increased relevant organic traffic and decreased organic bounce rate by 77% month-over-month.
• The average time on-site increased 1:27 seconds from December to January.
• Total Leads increased 99% (36% of leads are mobile leads), Pageviews increased 52%, and Sessions increased 57% from January to December.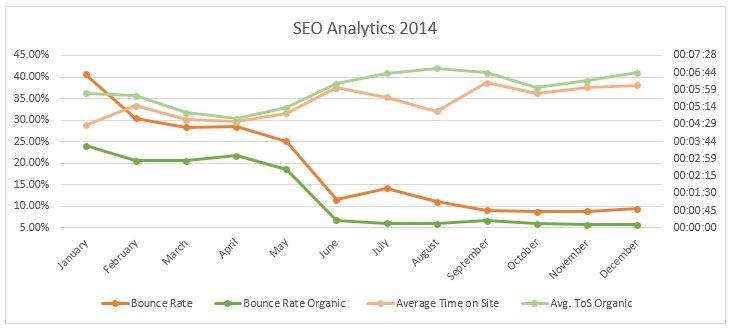 ---