Case Study
GMC Dealer Dominates the Competition with a Personalized and Fully Responsive Website

38%
INCREASE IN WEB TRAFFIC


50%
MORE PAGE VIEWS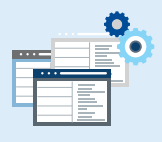 36% ↑
IN PAGE VIEWS PER SESSIONS

Overview
Gauthier Cadillac Buick GMC approached Search Optics in search of a website solution that met their brand goals and would improve overall web performance. The dealership's Business Development and Marketing Manager, Brodie Milne, understands the need to differentiate in order to stand out from competitors and gain market share. After struggling to obtain a personalized and truly responsive website from corporate mandated providers, such as CDK, Milne found his solution in Search Optics' proprietary Blueprint Platform®.
Objectives
+
Website customization
+ Increased search engine optimization to improve keyword rankings
+ Fully responsive site
+ Faster customer service and support
+ Improved performance
Solution
+
Completely personalized website
+ On-site search engine optimization
+ Mobile-first, fully responsive website developed for high performance on any device
+ Dedicated Search Optics team
+ Easy-to-use, on the go content management system
Results
Working closely with the Gauthier Cadillac Buick GMC team, Search Optics developed a personalized solution which not only delivered on the dealer's brand goals but also improved their website performance to dominate their competition. Over a period of four months since launching the new site the dealer experienced substantial increases in web traffic, page views, pages per session and a decrease in bounce rate. Blueprint's mobile-first approach boosted the dealer's SEO and mobile traffic, accounting for over 55% of total traffic since the launch of the new site.
To learn how Blueprint Platform can improve web performance to drive results, contact Search Optics today.
SearchOptics.com | 866.570.8627
---