Don't Overlook Bing Local
When talking about the search engine landscape the conversation is normally dominated by Google to the point that Bing is almost overlooked entirely. Aside from gimmicky online tests (Bing It On anyone?) and gotcha-style commercials, any mention of Bing is often met with derision and even laughter. This is not very surprising, though, as Google has been on the cutting edge of search technology for years, constantly expanding its products' reach and value.
Given Google's dominance, it may be no wonder that many marketers often ignore Bing when offering local search services. However, they do so at their own peril. As of October 2013, Bing's search engine market share was 18.1%. Of course, Google's market share had been holding steady at 66.9% for the past three months, and most of Bing's gains were at Yahoo's expense, but 18.1% is nothing to sneeze at. This is especially true when considering that Bing Local profiles appear alongside search results, just like Google+ profiles.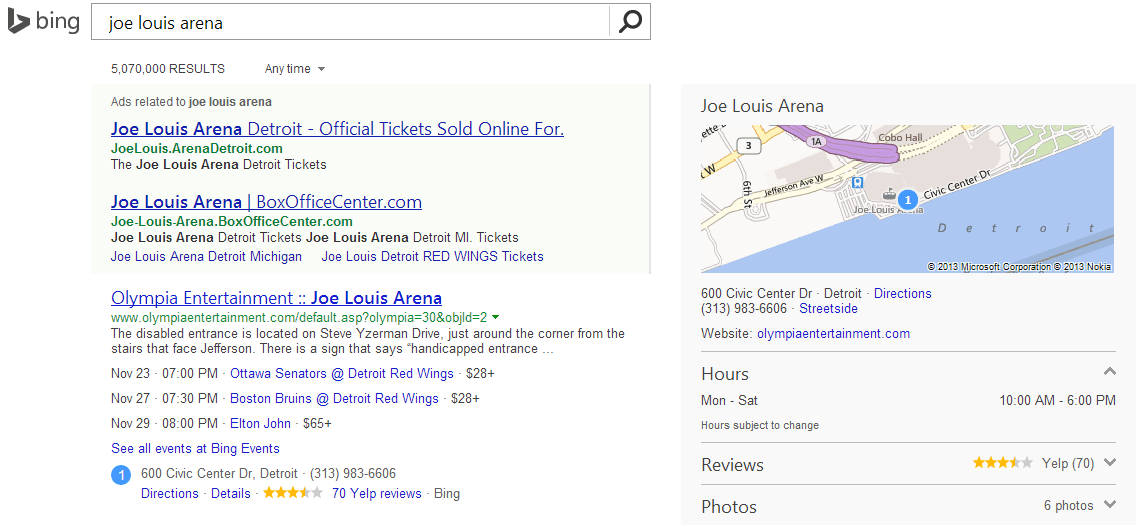 Bing is also the default search engine for devices such as Siri, the Amazon Kindle Fire, and Xbox. So if you're not optimizing your listings through Bing Local, you could be potentially losing out on 18.1% of incoming traffic.
At Search Optics, we have been running a pilot program to see the effect that Bing Local listings have on phone call traffic for some of our clients. Thirty days after optimizing – claiming, editing, adding social media URLs – these listings for 26 clients, we saw traffic increase by 7%, on average, per client.
In this blog, we have already written about the importance of Google+. While it is certainly true that G+Local is a must have for any small business or brand, Bing Local listings can also drive significant traffic to your business. If they are left unoptimized, you could be losing out on potential clients.
The post Don't Overlook Bing Local appeared first on Search Optics Blog.
---