Digital spending done right, not just more
When it comes to allocating your advertising and digital marketing dollars, it's tempting to jump on the bandwagon of the newest trends or to try and keep up with the Joneses (i.e., your market competitors). While it's important to stay informed and be competitive, these two actions should not be the main drivers of your digital spend strategy.
Savvy marketers know that smart spending involves building a strategy with balanced risk and return, much like an investment portfolio. And like any solid portfolio, your digital marketing strategy should be a mixed bag of elements that work collaboratively to support one another and drive performance.
In other words, don't put all your eggs in one basket. When you do that, you're not only wasting money, you're wasting opportunities.
Tony Koubridis, Search Optics vice president of sales operations, says the best combination uses paid and organic search together - and a 360-degree, omni-channel experience to generate qualified leads, convert traffic, and drive repeat business.
"When you add paid search to organic search, you're three times more likely to be seen and clicked on. The higher up your website shows up in search results, the greater the perception on the part of the consumer that you're better than the competition, and the greater the likelihood that they'll choose you."
Koubridis cites year-over-year results like the ones in the dealer scenario below as an example of how diversified digital spend impacts ROI.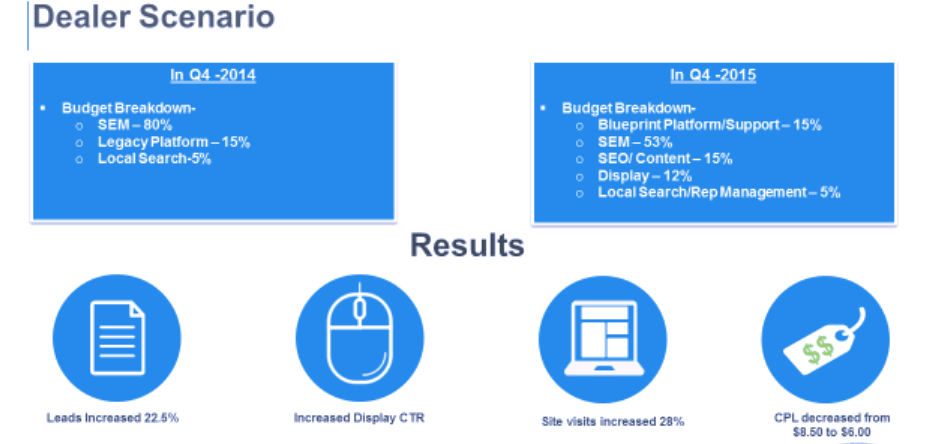 Using the identical amount of spend, Search Optics combined SEM with SEO and content marketing, display ads, and local search to reap significantly stronger results over LY. Site visits increased by 28%, qualified leads by more than 22%, and CPL (cost-per-click) dropped from $8.50 to $6.00.
According to Koubridis, "It's the combination that's so powerful."
Determining how much to spend, and where, is largely an individual decision dependent on your unique business goals.
•
Decide how much you're willing to spend for a qualified lead. How much is a sale worth to you? Determine that, and you'll have a realistic starting point for your overall marketing budget.
•
Set goals. You won't know how much to spend if you don't know what you're going after. Brand awareness? Qualified leads? Repeat business? Your goals are the lens through which you visualize marketing direction and where you'll want to pool resources.
•
Analyze LY's results. What strategies did you use last year? Which ones paid off and which fell flat? Invest a portion of your budgeting process in an annual post mortem, and you'll have greater insight into what works for you going forward.
•
Allocate budget to strategies based on their success, not just on what they cost. Free isn't free if it doesn't pay dividends; you're still spending money by diverting time and attention to something that isn't generating traffic or qualified leads.
•
Know your customer. Find out the content they want and the channels they like. If you pay attention to these things, you'll learn where to point your digital spend.
•
Two words: Mobile optimization. On average, your customer is connected to their phone 22 hours out of every 24-hour period. Your site has to be optimized for mobile, or they won't be spending any of those hours with you.
•
Two more words: Repeat visits. They're the key to converting customers, who typically check out similar sites before making a purchase. Retargeting ads are essential.
•
Keep in mind that results take time. Make sure your budget allows you some room to observe performance in real time and that you've got good analytics to back up your observations.
•
Manage your reputation or someone else will do it for you. In addition to visiting multiple sites before making a decision to buy from you, your customers are checking out what others are saying about their experience with your site and/or showroom.
•
And finally, how you allocate your marketing budget — and how it's executed — ultimately reflects your brand. It's always a good investment to partner with professionals who can guide you through the entire process. A great digital marketing partner should listen to your ideas, help you set goals, and work with you to achieve them through a balance strategies that you're comfortable with. Anything less and you're wasting your money.
---