Building an Integrated Digital Marketing Strategy
With the end of the year approaching quickly in an ever-changing digital landscape, it's time to take a quick look at what it takes to create and keep a competitive edge in 2014. Consumers continue to use multiple online and offline channels to find, interact with, and buy from businesses. Thus, an effective marketing strategy will require tight execution of a customized mix of mobile, local, desktop, and social media. If we've learned anything over the past decade and a half at Search Optics, it's that change — from a digital marketing perspective — means opportunity, and those who are agile and can move quickly will get a greater share of the spoils.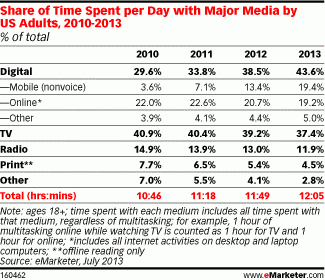 One such opportunity that necessitates swift adaptation is the mobile arena. According to a recent eMarketer study, Americans spent 43.6% of their overall media time with digital sources this year, including 19.4% on mobile devices compared to 19.2% on desktop or laptop computers. This marks the first year that the mobile share has surpassed that of other online platforms and represents over a five-fold increase since 2010. The mobile floodgates are open, and any successful marketing strategy must take this into account.
A "good enough" mobile experience is no longer an option as consumers' expectations of usability and mobile-friendly content & design continue to grow. To take advantage of the mobile avalanche and all the low-funnel opportunities that are available, businesses will need a solution that includes SEM, Local Search, Social Media, and SEO. Each marketing discipline needs to be looked at from a mobile perspective and integrated with all other channels.
SEM
Last year, Search Optics was able to produce a 200% increase in leads generated by a client's mobile campaign by creating mobile-specific ads that were tailored and tested to maximize phone conversions. With the introduction of enhanced campaigns from Google, anyone who had not already been taking advantage of mobile SEM has now been opted in automatically when using Google AdWords, making the top position of a mobile search even more difficult to attain in 2014.
Local
As Google continues to push the integration of Google+ and the "+1" throughout its services, having a strong mobile presence is a must. Local search results such as map listings on Google, Bing, and Yahoo! are an ideal way to motivate low-funnel shoppers to contact your business directly.
Social Media
Posting compelling content to social media is a key ingredient in the glue that drives a great, multi-channel, integrated digital strategy. While it may not sell a lot of products and services directly, the role of social media is critical for creating and keeping customer relationships that result in more sales. With strong integration into all major mobile devices, Google+, Facebook, and Twitter will continue to provide business with a channel to engage consumers with content and amplify the success of offers and promotions.
SEO
The key to great mobile SEO is a proactive approach that focuses efforts on where SEO is going, not where it's been. A mobile-friendly site with good structure and on-site SEO techniques will still be important, but as mobile results become more localized, keyword ranking reports will be a thing of the past. For 2014, social and local signals such as +1's, re-tweets, and user reviews will be the driving force in moving consumers through the conversion funnel.
In 2014, the major trend that will continue to determine online success is the convergence of once-siloed marketing channels. Mobile, local, desktop, and social media must be thought of as parts of an integrated digital marketing solution, each one tied into a flexible strategy focused on results.
- Troy Smith, President
The post Building an Integrated Digital Marketing Strategy appeared first on Search Optics Blog.
---